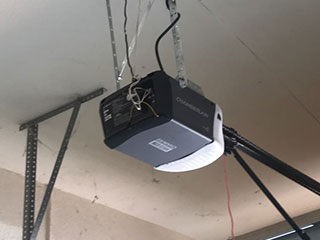 Your automated garage door system is a very complex machine. As such, it is bound to experience the occasional malfunction every so often, at which point it will need to be repaired by a professional. More often than not, it's some part of the opener that's causing the problem. Our technicians have a wealth of knowledge dealing with these devices, and can quickly see to it that your door returns to its normal operation.
Problems With The Motor and The Drive
Your garage door opener is essentially a motor that pushes and pulls the door in order to open and close it. Therefore, it can experience a slew of mechanical issues over time. The motor gear itself could break, and parts of the drive system, such as the rail, the trolley or even the chain/belt/screw, whichever type you have, can become damaged. Whatever the case may be, our team will troubleshoot the opener, and quickly fix the problem that's causing it to act up.
Ensuring User Safety
In order to prevent this device from closing the door while there's someone or something in its way, your opener uses a pair of photo eyes to detect obstacles. These units are attached to the lower ends of the vertical tracks, and they communicate by sending an infra-red beam across the threshold of your garage. If the alignment of the safety sensors isn't correct, the door may not reverse the way that it should when something is blocking its path. As part of our maintenance service, our technicians will check and – if necessary – realign these crucial components so that your door will remain safe for use.
New Opener Installation
Aside from general repairs, our experts can also help you when it comes time to buy a new opener. We'll consult you on which new models are worth investing in, what advanced features, like WiFi compatibility and rolling code technology, are important to have, and various other factors that need to be considered. We can provide you with units from major brands like LiftMaster, Genie, Craftsman and more, so the high quality of your new opener will be guaranteed.
Give Us a Call
If your door no longer moves properly, or opener replacement is due, our professional technicians at Garage Door Repair Peachtree City will be happy to help you out. Call us today.
In addition, we offer:

Roll up Garage Door Maintenance

Screw Drive Opener Replacement

Garage Door Cable Replacement

Automatic Door Opener Repair