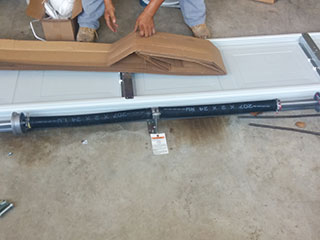 One of the most important parts of your garage door are the springs. These tough, heavy-duty devices are designed to help bear the weight of the door each time it moves, which means they need to handle a lot of weight. Typical doors can weigh more than a hundred and fifty pounds, so it's no surprise that these devices will begin to wear out over time. It's essential to replace them as soon as they show signs of weakening. Our technicians can provide a fast and reliable replacement units that will be just as durable if not more so.
When Should You Replace Your Springs?
These components are designed to last for thousands of cycles. Depending on the quality of the units and how well they're maintained, this could be between 3,000 and 10,000 uses. Proper maintenance involves regular lubrication and the occasional adjustment. Without this routine, you could find your garage door springs beginning to wear out just a few years after they've been installed, depending on how often you use the door. It's essential to keep an eye out for signs that they're becoming weak in order to avoid dangerous breakdown scenarios.
How To Identify Weakening Springs
You can test the strength of these components by disconnecting the opener and then manually lifting the door halfway open. The door should stay balanced and not move more than an inch or two down or up; if it drops quickly, or keeps going up, then the tension of the springs needs to be adjusted. Our technicians can take are of this task, but this is a clear sign that these devices are beginning to wear out, and replacing them will eventually be required. Other signs include wobbling or sagging of the door as it moves. Make sure to reach out to our team if your system starts exhibiting these signs.
Proper Spring Replacement
When these units eventually do wear out and break, replacement is the only option. Never try to perform this type of work yourself, as these components can be extremely dangerous. Instead, our technicians will carefully secure your door in place before safely carrying out the broken spring replacement task and making sure the tension of the new units is well adjusted.
Emergency Services Available
If your spring breaks in the least convenient time possible, it can be no only terribly annoying, but also very dangerous too. Don't hesitate to call our team at Garage Door Repair Peachtree City. We started offering emergency spring replacement services for this very reason.
We also offer the following:

Part Replacement & Repair

Opener Clicker Repair

Torsion Spring Adjustment

Door Level Alignment